In-house Laser Cutting & Folding Capabilities
We have recently invested in a state-of-the-art Trumpf Laser Cutting Machine with the capacity to laser cut parts up to 3m x 1.5m.
Our laser cutting machine has the capability of cutting various materials including Stainless Steel up to 30mm, Aluminium up to 20mm and Mild Steel up to 25mm. Our state-of-the-art facility enables us to offer our customers a fast lead time on high quality laser cut parts.

We are accredited to industry standard ISO 9001:2015, which ensures that our quality of manufacturing is kept to the highest standard throughout our facility.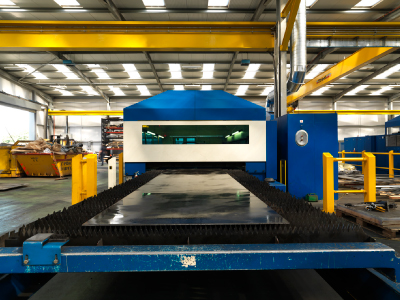 Benefits of laser cutting
Precise cutting with high quality edges
Allows for small and complex cutting
Faster cutting speeds than other methods
Ability to cut through various thick materials
Reduced risk of material contamination
Sheet Metalwork
We have state-of-the-art bending & folding machinery as well as our laser cutting facilities, which enables us to carry out all sheet metalwork processes in-house. We provide fast, quality services, as we have full control of our lead times for our customers.
We have the capacity to work with a range of materials in various thicknesses including mild steel, stainless steel, aluminium, copper and brass.
For all Laser Cutting enquiries, please contact us on:

T: +44 (0)1977 684 478